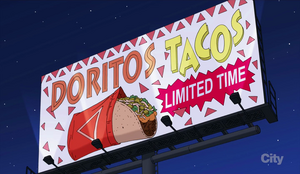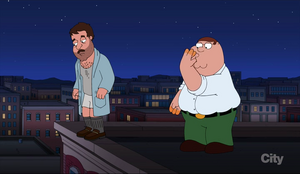 Doritos Tacos, also known as Doritos Locos Tacos, is a product of Taco Bell restaurants, which consists of a taco shell made of Doritos brand tortilla chip ingredients in Cool Ranch, Nacho Cheese and Fiery flavors.
After noting that Doritos Tacos are only available for a limited time on a billboard before seeing that Tom Tucker is contemplating suicide in "The New Adventures of Old Tom", Peter is seen licking off his fingers from the orange cheese power used in the making of the Doritos shell, having made a stop for the tacos before arriving for Tom.
Ad blocker interference detected!
Wikia is a free-to-use site that makes money from advertising. We have a modified experience for viewers using ad blockers

Wikia is not accessible if you've made further modifications. Remove the custom ad blocker rule(s) and the page will load as expected.