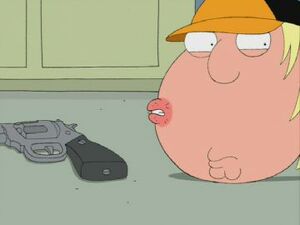 Doug was a pimple that lived on Chris' cheek in "Brian the Bachelor". He was a bad influence to him and got him in much trouble. Chris went to a doctor who attempted to use a cortisone shot on Doug but Doug pulled a gun and fired at the doctor, running him off. Chris and Doug wrestled for control with Chris finally reaching the shot and removing Doug. He is voiced by Kevin Michael Richardson.
Ad blocker interference detected!
Wikia is a free-to-use site that makes money from advertising. We have a modified experience for viewers using ad blockers

Wikia is not accessible if you've made further modifications. Remove the custom ad blocker rule(s) and the page will load as expected.