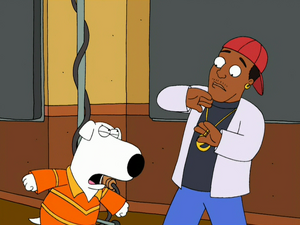 Dr. Diddy was the manager for the Griffin's short-lived family band, Meg and the Griffins in "Don't Make Me Over". Brian has an uncontrollable reaction when around him which he blames on his dad Coco when he barks threateningly at the manager. After making them famous and turning lead singer Meg Griffin into a teen sex symbol, he books them an appearance as musical guests on Saturday Night Live.
Dr. Diddy is voiced by Kevin Michael Richardson.
Ad blocker interference detected!
Wikia is a free-to-use site that makes money from advertising. We have a modified experience for viewers using ad blockers

Wikia is not accessible if you've made further modifications. Remove the custom ad blocker rule(s) and the page will load as expected.