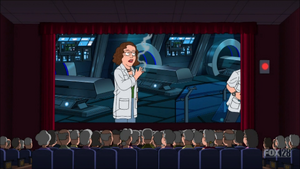 Dr. Grace Augustine was a fictional xenobotanist in the film Avatar portrayed by Sigourney Weaver in charge of the Avatar Program. She was a legend to the scientific personnel as the author of a comprehensive book on Pandora's plants. She helped Jake Sully on the Avatar Program until she died due to a gunshot wound inflicted by Colonel Quaritch.
In "Grumpy Old Man", the Griffins and the Pewterschmidts are shown a theater at the Oceanside Retirement Community where the film can be stopped by pressing a button on the seat so the patrons can ask questions. While watching Avatar, one of the residents note that Sigourney Weaver's character is smoking but is still a handsome woman.
Ad blocker interference detected!
Wikia is a free-to-use site that makes money from advertising. We have a modified experience for viewers using ad blockers

Wikia is not accessible if you've made further modifications. Remove the custom ad blocker rule(s) and the page will load as expected.