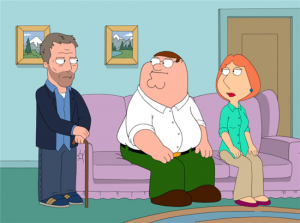 Gregory House, M.D., is a fictional protagonist of the American medical drama House, M.D.. Portrayed by Hugh Laurie, even in the character's appearance on Family Guy, the character is a medical genius, a diagnostician with specializations in infectious diseases and nephrology. He works as the Chief of Diagnostic Medicine at the fictional Princeton-Plainsboro Teaching Hospital, and there is the leader of a team of diagnosticians.
He makes a cameo appearance in "Business Guy". He tries to save Carter Pewterschmidt after his heart attack, displaying his somewhat unorthodox methods of treatment by punching him. He later appears at the end where Lois and Carter unmask him as the swamp monster.
Ad blocker interference detected!
Wikia is a free-to-use site that makes money from advertising. We have a modified experience for viewers using ad blockers

Wikia is not accessible if you've made further modifications. Remove the custom ad blocker rule(s) and the page will load as expected.