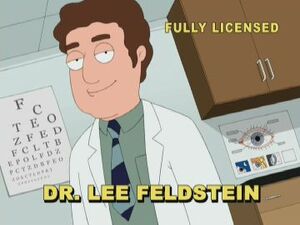 Dr. Lee Feldstein is a fully trained, licensed, and Jewish doctor that specializes in Lasik eye surgery.
He was featured in an advertisement announcing he was offering a special at the Hydrox Arena where he would perform Lasik eye surgery for just $12 on a Sunday during or after the events of "Back to the Woods"
Ad blocker interference detected!
Wikia is a free-to-use site that makes money from advertising. We have a modified experience for viewers using ad blockers

Wikia is not accessible if you've made further modifications. Remove the custom ad blocker rule(s) and the page will load as expected.