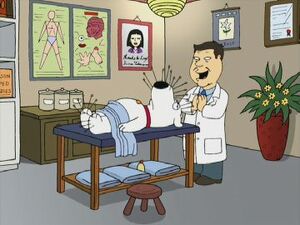 Dr. Ling was Brian Griffin's acupuncturist. In "He's Too Sexy for His Fat", he treats Brian to eradicate his fleas. Although he appears Chinese, he speaks with an Irish/Scottish accent. He is also unable to read English as he keeps his acupuncture needles next to a box of poison needles. Upon Brian's discovery of this, he ends his patronage with Ling.
Ad blocker interference detected!
Wikia is a free-to-use site that makes money from advertising. We have a modified experience for viewers using ad blockers

Wikia is not accessible if you've made further modifications. Remove the custom ad blocker rule(s) and the page will load as expected.