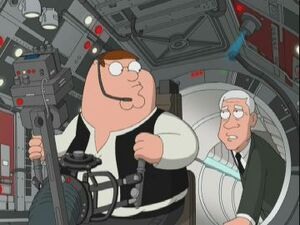 Dr. Rumack is a character from the 1980 comedy Airplane!, portrayed by Leslie Nielsen.
Rumack appears in Blue Harvest telling Han Solo, played by Peter Griffin, "I just want to tell you both good luck, were all counting on you", a line he said before, during, and after the landing in the film.
Judging by the slightly different sound quality of Rumack's line, this was actually "sampled" from the movie soundtrack.