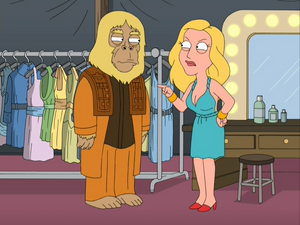 Dr. Zaius is a fictional character in the Pierre Boulle novel Planet of the Apes, and the film series and television series based upon it. He is an orangutan and although given a minor role devoid of dialogue in the novel, he becomes the main antagonist of the story in the subsequent film adaptation.
He appears as Spencer Pratt arguing with "wife" Heidi Montag in "We Love You, Conrad". The portrayal arises from the song when Pratt is described in the song "Take Me Out to pLace Tonight" from "Tales of a Third Grade Nothing" as looking like a giant monkey.
Ad blocker interference detected!
Wikia is a free-to-use site that makes money from advertising. We have a modified experience for viewers using ad blockers

Wikia is not accessible if you've made further modifications. Remove the custom ad blocker rule(s) and the page will load as expected.