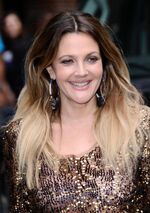 Drew Blyth Barrymore (born February 22, 1975) is an American actress, film producer and film director. She is a member of the Barrymore family of American actors and granddaughter of John Barrymore. She first appeared in an advertisement when she was eleven months old. Barrymore made her film debut in Altered States in 1980. Afterwards, she starred in her breakout role in E.T. the Extra-Terrestrial. She successfully made the transition from child star to adult actress with a number of films including 50 First Dates, The Wedding Singer, and the Charlie's Angels movies.
On Family Guy, she voiced Mrs. Lockhart in "Fast Times at Buddy Cianci Jr. High", and herself in Stewie Griffin: The Untold Story.
Starting in "Whistle While Your Wife Works", she began voicing Jillian Russell, Brian Griffin's less-than-intelligent girlfriend.
Ad blocker interference detected!
Wikia is a free-to-use site that makes money from advertising. We have a modified experience for viewers using ad blockers

Wikia is not accessible if you've made further modifications. Remove the custom ad blocker rule(s) and the page will load as expected.