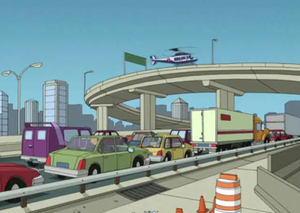 Drunk Billy was the Quahog 5 News Traffic Cam helicopter pilot. In the episode "Dial Meg for Murder", Drunk Billy tragically dies in a fatal collision with a highway overpass. In anticipation for this moment, colleagues Tom Tucker and Diane Simmons present a pre-prepared collection of accidents and near misses from Billy's career.
Ad blocker interference detected!
Wikia is a free-to-use site that makes money from advertising. We have a modified experience for viewers using ad blockers

Wikia is not accessible if you've made further modifications. Remove the custom ad blocker rule(s) and the page will load as expected.