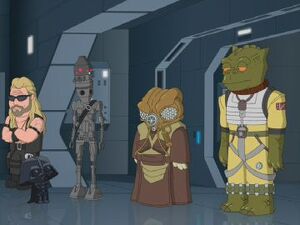 Duane Lee "Dog" Chapman (born February 2, 1953) is an American bounty hunter and a former bail bondsman. He stars in Dog the Bounty Hunter, a weekly reality television program which is broadcast on the A&E Network.
Chapman appears as a bounty hunter choice in "Something, Something, Something, Dark Side".
Meg pretends to marry Chapman via a cardboard cutout in "An App a Day".
Ad blocker interference detected!
Wikia is a free-to-use site that makes money from advertising. We have a modified experience for viewers using ad blockers

Wikia is not accessible if you've made further modifications. Remove the custom ad blocker rule(s) and the page will load as expected.