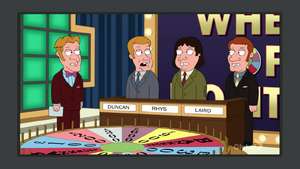 Duncan Rhys & Laird are three contestants on Wheel of Politeness watched by the British version of the Griffins in the "Chap of the Manor" segment of "Family Guy Viewer Mail No. 2". On the show, they insist to let one another take the first turn. The show ends before any of them can actually take their turn.
Ad blocker interference detected!
Wikia is a free-to-use site that makes money from advertising. We have a modified experience for viewers using ad blockers

Wikia is not accessible if you've made further modifications. Remove the custom ad blocker rule(s) and the page will load as expected.