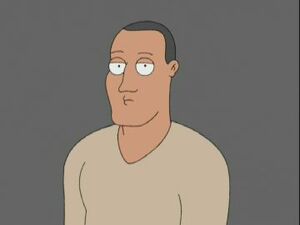 Dwayne Douglas Johnson (born May 2, 1972) is an American actor, former football player and professional wrestler. He is also known by his former ring name The Rock and is occasionally credited as Dwayne "The Rock" Johnson.
He appears in "Brian Sings and Swings" with no voice lines. Stewie Griffin states that if Brian dies from all the drinking that he has been doing he'll have to start hanging out with The Rock again. They then show a movie trailer type scene with The Rock. Don LaFontaine narrates trying to figure out his ethnicity.
He guest stars in live action in "Big Man on Hippocampus" to try to simulate Peter and Lois making love with action figures of their likenesses due to FCC regulations. Around this time, his movie Tooth Fairy was released, which co-stars Seth MacFarlane.
Rallo Tubbs reads Chris a story about Johnson in "He's Bla-ack!".
Peter and God note that Kevin Hart and The Rock are in virtually every film in "Are You There God? It's Me, Peter".