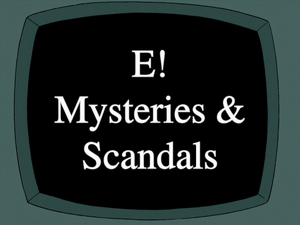 E! Mysteries & Scandals is an American documentary series on the E! Entertainment Television cable and DBS channel that deals with mysteries and scandals focusing on famous Hollywood celebrities, movies, TV shows and well-known public figures. It is hosted by A. J. Benza.
One episode, seen in "Brian Wallows and Peter's Swallows", dealt with the rise and fall of Pearl Burton, from her beginning as a jingle singer to her performance at Carnegie Hall. He admits that her whereabouts are unknown as of the episode's recording. Brian Griffin, her caretaker via court-ordered community service, caught this episode and realized how she became so bitter, and changed his opinions on her.
Ad blocker interference detected!
Wikia is a free-to-use site that makes money from advertising. We have a modified experience for viewers using ad blockers

Wikia is not accessible if you've made further modifications. Remove the custom ad blocker rule(s) and the page will load as expected.