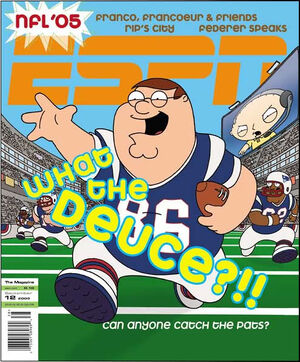 ESPN the Magazine is a biweekly sports magazine published by the ESPN sports network in the United States, beginning with the first issue on March 11, 1998.
The September 12, 2005 issue featured Family Guy characters Peter and Stewie, with strong influences from "Patriot Games". The magazine itself contains no Family Guy content.
Ad blocker interference detected!
Wikia is a free-to-use site that makes money from advertising. We have a modified experience for viewers using ad blockers

Wikia is not accessible if you've made further modifications. Remove the custom ad blocker rule(s) and the page will load as expected.