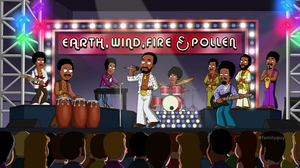 Earth, Wind, Fire and Pollen is a musical group that Mort Goldman managed in the 1970s from his company, Mort Town Records in a flashback in "In Harmony's Way". Unfortunately, his allergies, especially during their song September, and an addiction to olives forced him to give up the music business.
Ad blocker interference detected!
Wikia is a free-to-use site that makes money from advertising. We have a modified experience for viewers using ad blockers

Wikia is not accessible if you've made further modifications. Remove the custom ad blocker rule(s) and the page will load as expected.