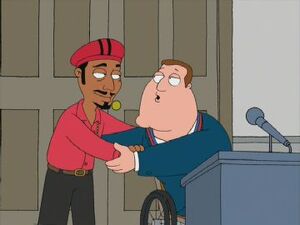 Eddie Griffin (born July 15, 1968) is an American actor and comedian, known for his sitcom, Malcolm & Eddie, along with co-star, Malcolm-Jamal Warner, and his role in the 2002 comedy film, Undercover Brother, as the film's title character.
He appears in "Ready, Willing, and Disabled" as one of the people, specifically the Griffin, that Joe Swanson thanks at his City Hall honoring and awards ceremony.
Ad blocker interference detected!
Wikia is a free-to-use site that makes money from advertising. We have a modified experience for viewers using ad blockers

Wikia is not accessible if you've made further modifications. Remove the custom ad blocker rule(s) and the page will load as expected.