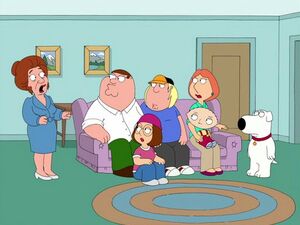 Edna Ann Garrett (better known to viewers as Mrs. Garrett or Mrs. G) was played by actress Charlotte Rae on the show, Diff'rent Strokes, and on the spin-off, The Facts of Life, from 1978 to 1986. she was the housekeeper to the Drummond family in New York City. In 1979, she took a job as den mother at the Eastland Academy in Peekskill, New York as daughter Kimberly Drummond attended Eastland. Over the years, Mrs. Garrett's role on The Facts of Life changed. At first she was merely a live-in supervisor for the girls of Eastland; in the second season she became their in-house dietician who managed the school's cafeteria.
Peter wants a statue of Blair admitting she plagiarized a work to Mrs Garrett in "Family Guy Viewer Mail". At the end of the segment, Peter changes himself into Mrs. Garrett's bosom.
In "Brian Goes Back to College", Brian watches an episode in which a masculine Jo asks mentor Mrs. Garrett if it's okay that her penis touched her vagina.
Lois is so shocked that Brian proposed to Rita in "Brian's Got a Brand New Bag" that she needs Mrs. Garrett to properly express her disbelief.
In "Bigfat", while searching for Peter in Canada, mounties find a stick figure of Mrs. Garrett that he made. She later appears at the end of the episode as a stripper that Quagmire arranged for Peter.