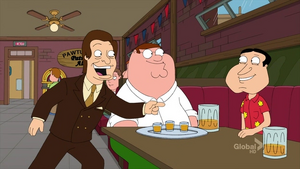 Eduard Anatolyevich Khil (4 September 1934 - 4 June 2012), was a Russian baritone singer and a recipient of the People's Artist Award of the RSFSR.
In "Lottery Fever", Eduard is depicted as a Russian waiter who sings for Peter's amusement at The Drunken Clam. The song, "I'm So Happy to Finally Be Back Home", is a reference to a popular internet meme, "Trololo".[1]
Ad blocker interference detected!
Wikia is a free-to-use site that makes money from advertising. We have a modified experience for viewers using ad blockers

Wikia is not accessible if you've made further modifications. Remove the custom ad blocker rule(s) and the page will load as expected.