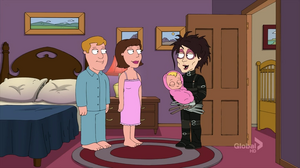 Edward Scissorhands is a 1990 American romantic fantasy film directed by Tim Burton and starring Johnny Depp. The film shows the story of an artificial man named Edward, an unfinished creation, who has scissors for hands. Edward is taken in by a suburban family and falls in love with their teenage daughter Kim.
After Stewie and Brian worry about Lois trying to be something she's not in "Lois Comes Out of Her Shell", Edward appears in a cutaway gag as a babysitter. After assuring the parents that he'll take good care of their infant, he quickly returns to inform them of its death.
Edward is voiced by Johnny Depp reprising the role.
Ad blocker interference detected!
Wikia is a free-to-use site that makes money from advertising. We have a modified experience for viewers using ad blockers

Wikia is not accessible if you've made further modifications. Remove the custom ad blocker rule(s) and the page will load as expected.