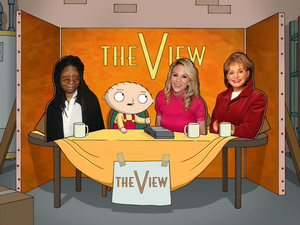 Elisabeth Hasselbeck (née Filarski; born May 28, 1977) is an American television talk show host and television personality. She was a contestant on Survivor: The Australian Outback and is a co-host on the daytime talk show, The View.
In "Fast Times at Buddy Cianci Jr. High", Stewie Griffin wakes up and says he just had a dream that he was an egg being hatched by Hasselbeck.
In the DVD version of "Quagmire's Dad", when Brian leaves for his seminar, Stewie insists he knows how to have a good time. The scene fast-forwards to a cardboard cutout set of The View with photograph standees of Hasselbeck, Whoopi Goldberg, and Barbara Walters set on the table.