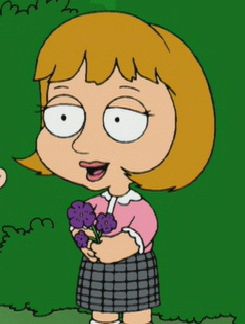 Eliza Pinchley is the daughter of English conman Nigel Pinchley. Stewie tried to civilize her. His efforts eventually met with brief success, but she soon reverted to her Cockney self by wetting herself in public. Unfortunately, after her father was hanged for insurance fraud in Britain (NB there is no capital punishment in the UK), she was sent to live in an orphanage. Blaming Lois for her ordeal, she writes a letter to Stewie saying (to Stewie's great amusement) that she will make it her life's effort to make sure that his mother suffers a vengeful and horrible death. She appeared in "One if by Clam, Two if by Sea".
Eliza is voiced by Tara Strong while her singing voice is provided by Michelle Horn.
Ad blocker interference detected!
Wikia is a free-to-use site that makes money from advertising. We have a modified experience for viewers using ad blockers

Wikia is not accessible if you've made further modifications. Remove the custom ad blocker rule(s) and the page will load as expected.