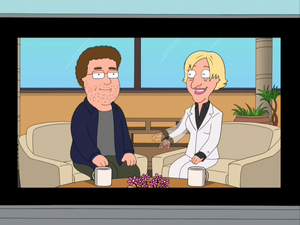 Ellen Lee DeGeneres (born January 26, 1958) is an American stand-up comedian, television host, actress, and gay and lesbian activist. She hosts the syndicated talk show The Ellen DeGeneres Show, and was a judge on the ninth season of American Idol.
In "FOX-y Lady", she appeared hosting her talk show. She had Seth Rogen as a guest. Unbeknown to her, she had rancid breath that smelled like her lover's vagina. She was voiced by Alex Borstein, who reprises her DeGeneres impression from MADtv.
In "And I'm Joyce Kinney", Ellen is revealed to only talk when her guests are talking.
Ad blocker interference detected!
Wikia is a free-to-use site that makes money from advertising. We have a modified experience for viewers using ad blockers

Wikia is not accessible if you've made further modifications. Remove the custom ad blocker rule(s) and the page will load as expected.