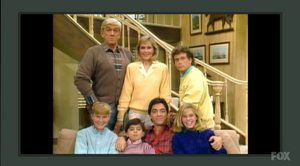 Ellen Travolta (born October 6, 1940) is an American actress, the eldest sibling of John Travolta. She is known for her portrayal of Louisa Arcola Delvecchio, the mother of Chachi Arcola (Scott Baio) in the 1950s-based sitcom, Happy Days, and its spin-off, Joanie Loves Chachi. She also played mother to Baio on Charles in Charge from 1987 to 1990.
She appeared as Lillian, Charles's mother, in the opening sequence of Charles in Charge with her castmates in "New Kidney in Town".
Ad blocker interference detected!
Wikia is a free-to-use site that makes money from advertising. We have a modified experience for viewers using ad blockers

Wikia is not accessible if you've made further modifications. Remove the custom ad blocker rule(s) and the page will load as expected.