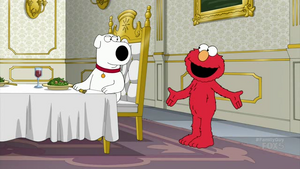 Elmo is a furry red Muppet monster with an orange nose that appears on Sesame Street.
Stewie asks Brian if Elmo and Santa Claus are alike in terms of existence in "Road to the North Pole".
In "A Lot Going On Upstairs", Stewie uses the power of his dreams to transform himself into Elmo, noting that he speaks bad English on an educational show.