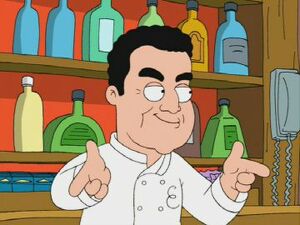 Emeril John Lagasse (born October 15, 1959) is an American celebrity chef, restaurateur, television personality, and cookbook author. A regional James Beard Award winner, he is perhaps most notable for his Food Network shows Emeril Live and Essence of Emeril as well as catch phrases such as "Kick it up a notch!" and "BAM!".
He appears in "The Cleveland-Loretta Quagmire" at The Drunken Clam to overemphasize the onomatopoeia for sex by using his catchphrase.
Ad blocker interference detected!
Wikia is a free-to-use site that makes money from advertising. We have a modified experience for viewers using ad blockers

Wikia is not accessible if you've made further modifications. Remove the custom ad blocker rule(s) and the page will load as expected.