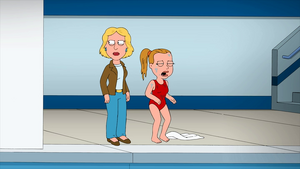 Emily is Jamie's daughter who aspires to be on the US Olympic diving team.
When Peter finds out that his new female friends are insulting him behind his back in "Roasted Guy", he plots revenge with Lois by becoming a champion diver, defeating Emily in a match and ruining her chances of making the team.
Emily is voiced by Mae Whitman.
Ad blocker interference detected!
Wikia is a free-to-use site that makes money from advertising. We have a modified experience for viewers using ad blockers

Wikia is not accessible if you've made further modifications. Remove the custom ad blocker rule(s) and the page will load as expected.