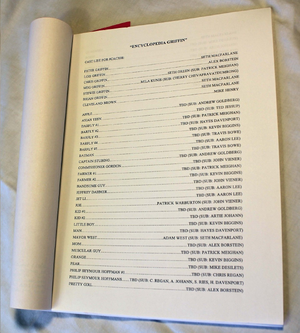 A draft of the script that was available in a charity auction listed several characters that did not appear in the broadcast cut of the episode, including Batman, Commissioner Gordon, Robin, Captain Stubing, Jeffrey Dahmer and Philip Seymour Hoffman.
"Hot Blooded" by Foreigner plays during Chris' fireman shoot.
"Raindrops Keep Falling On My Head" by BJ Thomas plays during the montage at the park.
Joe's voice mail is sung to the tune of "Your Love" by The Outfield.
Chris breaks into "The Hamsterdance", an early video meme attributed to Hampton the Hamster, originally located at Hamsterdance.com.[1]
Peter plays "Songbird" by Kenny G with Cleveland's saxophone.
When Peter switches masks, his butt crack was never drawn in.
The title of this episode only applies to the first act and then delves into the Chris subplot for the rest, similar to "Long John Peter".