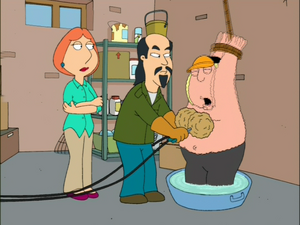 Endo is a torturer from the film Lethal Weapon.
In "Bango Was His Name Oh", Lois Griffin tries to teach Chris Griffin how to talk with girls by making him memorize the characters of Sex and the City. When Chris fails to name all of the girls, by saying Scrappy-Doo is one of them, Lois orders Endo to give him electroshocks.
Ad blocker interference detected!
Wikia is a free-to-use site that makes money from advertising. We have a modified experience for viewers using ad blockers

Wikia is not accessible if you've made further modifications. Remove the custom ad blocker rule(s) and the page will load as expected.