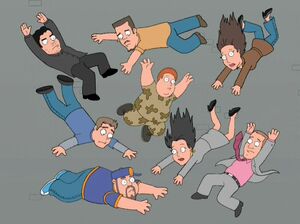 Entourage is an American comedy-drama television series that premiered on HBO on July 18, 2004. The series was created and is largely written by Doug Ellin and chronicles the acting career of Vincent Chase, a young A-list movie star, and his childhood friends from Queens, New York City, as they navigate the unfamiliar terrain of Hollywood, California.
Stewie Griffin kills the entire cast of Entourage in his song "I've Got a Little List" in "Lois Kills Stewie".
Ad blocker interference detected!
Wikia is a free-to-use site that makes money from advertising. We have a modified experience for viewers using ad blockers

Wikia is not accessible if you've made further modifications. Remove the custom ad blocker rule(s) and the page will load as expected.