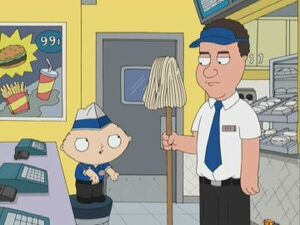 Eric is a supervisor at McBurgertown in "Baby Not On Board" and he is very strict. He fired Stewie Griffin after he found out that Stewie ate food on the job. Stewie found this unfair, as he ran out of food at home and his family had not returned home yet.
Ad blocker interference detected!
Wikia is a free-to-use site that makes money from advertising. We have a modified experience for viewers using ad blockers

Wikia is not accessible if you've made further modifications. Remove the custom ad blocker rule(s) and the page will load as expected.