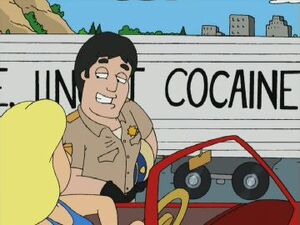 Henry Enrique "Erik" Estrada (born March 16, 1949) is an American actor, known for his co-starring lead role in the 1977–1983 United States police television series, CHiPs. He later became known for his work in Spanish language telenovelas, and in more recent years, his appearances in reality television shows and infomercials and as a regular voice on the Adult Swim show, Sealab 2021.
He appeared in "I Never Met the Dead Man", reprising his role as Ponch in an episode of CHiPs, getting distracted while on duty.
Ad blocker interference detected!
Wikia is a free-to-use site that makes money from advertising. We have a modified experience for viewers using ad blockers

Wikia is not accessible if you've made further modifications. Remove the custom ad blocker rule(s) and the page will load as expected.