Evan (Stu & Stewie's Excellent Adventure)
Talk

0
Share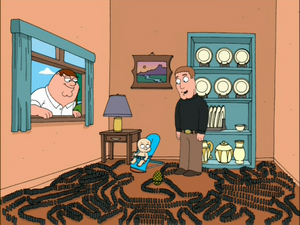 Evan is the hemophiliac infant son of a man that just finishes stacking dominoes next to a China cabinet and places a priceless Fabergé egg in the center in the Stewie Griffin: The Untold Story segment "Stu & Stewie's Excellent Adventure".
When Peter Griffin spends Meg's college money to buy a medieval catapult, he launches himself through the air, landing just outside of the house by Evan. When he pokes his head in and notes their nice things, the man makes Evan aware they were complimented.
Ad blocker interference detected!
Wikia is a free-to-use site that makes money from advertising. We have a modified experience for viewers using ad blockers

Wikia is not accessible if you've made further modifications. Remove the custom ad blocker rule(s) and the page will load as expected.