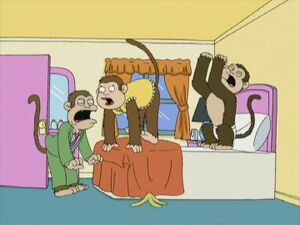 The Evil Monkey's wife originally appears in "Ready, Willing, and Disabled". The Evil Monkey, upon returning home from work, walked up to his bedroom to find her cheating on him with another monkey, they screech at each other and Evil Monkey points his finger at her.
The incident was mentioned later in "Hannah Banana".
Ad blocker interference detected!
Wikia is a free-to-use site that makes money from advertising. We have a modified experience for viewers using ad blockers

Wikia is not accessible if you've made further modifications. Remove the custom ad blocker rule(s) and the page will load as expected.