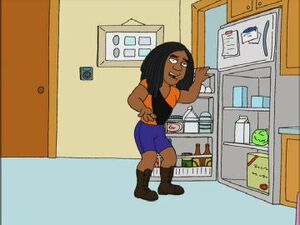 Fabrice "Fab" Morvan (born 14 May 1966) is a French singer-songwriter, dancer and model. He was formerly half of the pop duo Milli Vanilli, which he fronted with Rob Pilatus and sold multi-platinum albums around the world. However, he was later embroiled in one of the largest scandals in pop music history when it was revealed that neither Morvan nor Pilatus had performed on any of Milli Vanilli's songs.
Morvan appears in "Running Mates" when Lois Griffin chides her daughter Meg that winning without effort is worthless. Morvan disagrees with her but gives up on trying to perform Milli Vanilli's hit "Baby Don't Forget My Number".
Ad blocker interference detected!
Wikia is a free-to-use site that makes money from advertising. We have a modified experience for viewers using ad blockers

Wikia is not accessible if you've made further modifications. Remove the custom ad blocker rule(s) and the page will load as expected.