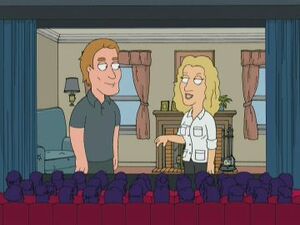 Failure to Launch is a 2006 American romantic comedy film. In the movie, a 30-something child lives in the home of his parents and shows no interest in leaving the comfortable life his parents, especially his mother, has made for him there. The film starred Matthew McConaughey, Sarah Jessica Parker, Terry Bradshaw, Kathy Bates, Bradley Cooper, and Justin Bartha.
In "Peter's Two Dads", Peter Griffin tries to demonstrate that he is tough when he says that he made it halfway through this film.
Ad blocker interference detected!
Wikia is a free-to-use site that makes money from advertising. We have a modified experience for viewers using ad blockers

Wikia is not accessible if you've made further modifications. Remove the custom ad blocker rule(s) and the page will load as expected.