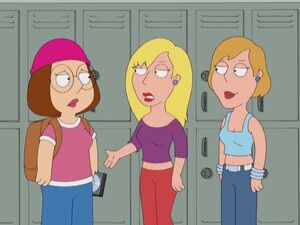 Fairuza Alejandra Feldthouse (born May 21, 1974), better known by her stage name Fairuza Balk, is an American film actress. She made her theatrical film debut as Dorothy Gale in Disney's Return to Oz. Balk also made appearances in Valmont, The Craft, The Island of Dr. Moreau, American History X, The Waterboy, Almost Famous, and Personal Velocity: Three Portraits.
Fairuza voiced Connie DiMico only in "Let's Go to the Hop". She also voiced a character in "Peter, Peter, Caviar Eater".
Ad blocker interference detected!
Wikia is a free-to-use site that makes money from advertising. We have a modified experience for viewers using ad blockers

Wikia is not accessible if you've made further modifications. Remove the custom ad blocker rule(s) and the page will load as expected.