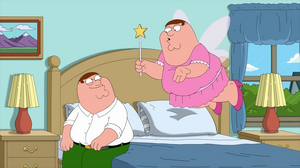 Fairy God Peter is Peter's guardian and adviser. When he works up the nerve to ask a phone sex operator out for a date in "Call Girl", unaware that it is really Lois, he thanks his Fairy God Peter who tells him it was always within him. He then excuses himself to go meet Fairy God Joe and Fairy God Quagmire down at the Fairy God Clam which Peter notes that it sounds like a gay bar which is confirmed by Fairy God Peter.
Ad blocker interference detected!
Wikia is a free-to-use site that makes money from advertising. We have a modified experience for viewers using ad blockers

Wikia is not accessible if you've made further modifications. Remove the custom ad blocker rule(s) and the page will load as expected.