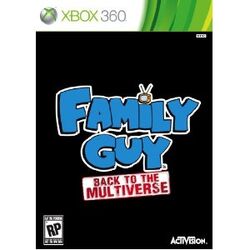 Family Guy: Back to the Multiverse, a sequel to "Road to the Multiverse", is a video game, based on Family Guy created by Seth MacFarlane, published by Activision and released on November 20, 2012 for Xbox 360, PlayStation 3 and PC.
Players control Brian and Stewie Griffin in an adventure that pits them against Stewie's evil half-brother, Bertram. Back To The Multiverse features both co-operative and competitive multiplayer modes built around the characters. Extra challenge levels, multiplayer maps, costumes and playable characters are unlocked through gameplay.
The game was nominated for an Annie Award for Best Animated Video Game in 2012. [1]
Ad blocker interference detected!
Wikia is a free-to-use site that makes money from advertising. We have a modified experience for viewers using ad blockers

Wikia is not accessible if you've made further modifications. Remove the custom ad blocker rule(s) and the page will load as expected.