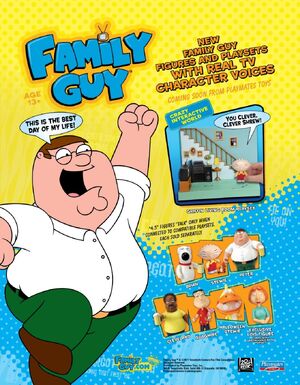 Family Guy: Crazy Interactive World is line of figures released by Playmates Toys following Mezco's license with Family Guy ending and taken over by Playmates. The figures are similar to the "World of Springfield" line. When figures are connected to pegs on playsets, the figures can "talk."
Series One
Released on July 30, 2011.
Series one playset
Lois Griffin w/ Griffin Living Room
Series Two
A second series was announced but never released.[1]
Series two playset



Ad blocker interference detected!
Wikia is a free-to-use site that makes money from advertising. We have a modified experience for viewers using ad blockers

Wikia is not accessible if you've made further modifications. Remove the custom ad blocker rule(s) and the page will load as expected.