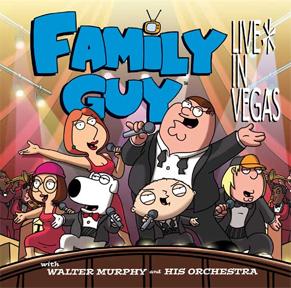 Family Guy: Live in Vegas is a soundtrack album for the animated television series Family Guy. It was released on April 26, 2005 by Geffen Records. It was composed by Walter Murphy and creator Seth MacFarlane. The album features only one song from the series, the theme song, the rest of the original songs were composed exclusively for the album. "The Last Time I Saw Paris", "Slightly Out Of Tune" and "One Boy" are reworked versions of pop standards. It features Jason Alexander, Patti LuPone and Haylie Duff as guest stars. It includes Rat Pack and Broadway inspired songs.
Tracklisting
Bonus DVD Content
"Stewie's Sexy Party" Music Video
Behind the scenes look at the making of the album
Behind the scenes look at the music video
A trailer for the fourth season of Family Guy
A trailer for American Dad!.
Ad blocker interference detected!
Wikia is a free-to-use site that makes money from advertising. We have a modified experience for viewers using ad blockers

Wikia is not accessible if you've made further modifications. Remove the custom ad blocker rule(s) and the page will load as expected.