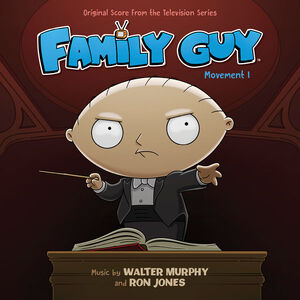 Family Guy: Movement 1 is a collection of orchestral scores spanning the first four seasons of Family Guy. The music has been compiled from the works of composers Walter Murphy and Ron Jones and is available from La-La Land Records.
Track Listing
Family Guy End Titles (1999)* :33
"I Never Met the Dead Man"* 2:19
"Chitty Chitty Death Bang"* 1:36
"Running Mates" † 2:12
"If I'm Dyin', I'm Lyin'"* 1:16
"Death Is a Bitch" † 1:42
"I Am Peter, Hear Me Roar"* 2:21
"Let's Go to the Hop" † 2:29
"Da Boom"* 1:31
"Dammit Janet!"* 2:26
"Mr. Griffin Goes to Washington" † 1:25
"Road to Rhode Island"* 1:39
"The Thin White Line"* 2:34
"Lethal Weapons" † 1:42
"Brian Does Hollywood † 2:18
"Emission Impossible" † 3:39
"The Kiss Seen Around the World"* 2:13
"Mr. Saturday Knight" † 1:57
"Ready, Willing, and Disabled" † 1:51
"Screwed the Pooch"* 1:14
"Family Guy Viewer Mail No. 1"* 3:01
"Road to Europe"* 3:11
"North by North Quahog"* 1:57
"Blind Ambition"* 3:27
"Breaking Out is Hard to Do" † 3:07
Family Guy End Titles (2001 rev 2005)* :34
Total Run Time: 61:08
*Composed by Walter Murphy
† Composed by Ron Jones
Ad blocker interference detected!
Wikia is a free-to-use site that makes money from advertising. We have a modified experience for viewers using ad blockers

Wikia is not accessible if you've made further modifications. Remove the custom ad blocker rule(s) and the page will load as expected.