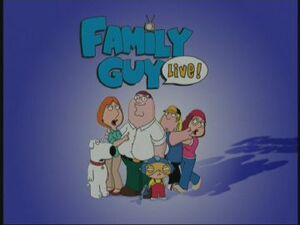 "Family Guy Live" was first presented at Montreal's Just for Laughs comedy fest in 2004; the cast followed that up with 2005 shows in Los Angeles and New York. "Family Guy Live" returned for a second engagement at the Just for Laughs in 2007 which was seen in the Family Guy Volume 6 DVD release. The show has also played in Chicago and other cities.
In the stage show, creator and star Seth MacFarlane leads the cast, including Alex Borstein, Mila Kunis, Seth Green and Mike Henry, in musical numbers from the show. Event includes a table read of an episode and a Q&A with the cast. It also occasionally features a sneak peek at an upcoming episode.
Ad blocker interference detected!
Wikia is a free-to-use site that makes money from advertising. We have a modified experience for viewers using ad blockers

Wikia is not accessible if you've made further modifications. Remove the custom ad blocker rule(s) and the page will load as expected.