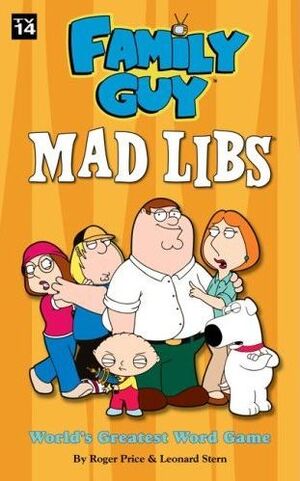 Reading level: Ages 9-12
Paperback: 48 pages
Publisher: Price Stern Sloan (March 22, 2007)
Language: English
ISBN-10: 0843121904
ISBN-13: 978-0843121902
Dimensions: 8 x 5 x 0.4 inches
Roger Price (Author), Leonard Stern (Author)
Description:
Family Guy is the absurdly funny, unbelievably popular cartoon sitcom from Fox. The show chronicles the lives of the Griffin family—Peter, Lois, Stewie, Brian, Chris, and Meg—a tight-knit but nutty family from Quahog, Rhode Island. And now, Family Guy combines comedic forces with Mad Libs for an absolutely hilarious time that no fan will be able to resist!
Ad blocker interference detected!
Wikia is a free-to-use site that makes money from advertising. We have a modified experience for viewers using ad blockers

Wikia is not accessible if you've made further modifications. Remove the custom ad blocker rule(s) and the page will load as expected.