Family Guy Presents: Seth & Alex's Almost Live Comedy Show
Talk

0
Share
Ad blocker interference detected!
Wikia is a free-to-use site that makes money from advertising. We have a modified experience for viewers using ad blockers

Wikia is not accessible if you've made further modifications. Remove the custom ad blocker rule(s) and the page will load as expected.
Family Guy Presents: Seth & Alex's Almost Live Comedy Show
"You're welcome, America."

Season: 8 Episode: Special
Total Episode Count: SP4
First Aired: November 8, 2009

Guest Starring: Marlee Matlin, Patrick Warburton
Featuring: Seth MacFarlane, Alex Borstein
Also Appearing: Walter Murphy & His Orchestra, Peter, Lois, Stewie, Brian, Meg, Chris
Musical Numbers: Theme Song, Edelweiss, Poker Face, Cal Johnson Theme Song, Rocket Man, Surfin' Bird, Shipoopi

Director: Louis J. Horvitz, Jackson Douglas

Writers
:
Aaron Blitzstein
,
Alex Borstein
,
Cherry Chevapravatdumrong
,
Andrew Goldberg
,
Dave Ihlenfeld
,
Artie Johann
,
Seth MacFarlane
,
Patrick Meighan
,
Danny Smith
,
Alec Sulkin
,
John Viener
,
Wellesley Wild
Plot
: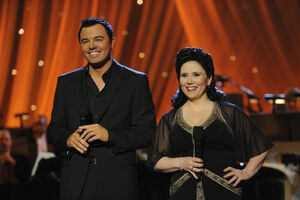 Family Guy Presents: Seth & Alex's Almost Live Comedy Show is a commercial-free live-action/animated variety show starring Seth MacFarlane (show creator, voice of Peter, Brian, Stewie, Quagmire and others) and Alex Borstein (voice of Lois) which aired on November 8, 2009 at 8:30/7:30 central time. It contains comedy sketches, original animation, and live performances of Family Guy's best musical numbers, as well as some surprise celebrity guests.
The evening begins with a live performance of the theme song.
Seth then introduces Walter Murphy and His Orchestra, who play one of the transition cues
The tranistion cue is used for an original animation, where Peter asks his family what celebrity they would have sex with
Seth then begins to sing Edelweiss, but is constantly interrupted by Alex, who is uncomfortable about it
Seth and Alex introduce some screen tests of Hollywood actors auditioning for movies they would never be cast in, including
Stewie introduces a sneak peek at Sherlock Holmes
Seth and Alex reenact the scene in I Dream of Jesus where Marlee Matlin calls Moviefone
Alex sings "Poker Face" as Matlin, but the real Marlee Matlin comes on stage and has never been so insulted in her life
Alex then tells a joke that only a rapist could hear, and the pianist laughs
Stewie introduces a sneak peek at Ninja Assassin
Alex and Seth introduce an animated clip from the failed Fox pilot Hill Street Jews
Seth sings the contradictory theme song to the failed Fox western Cal Johnson (played by Patrick Warburton)
Seth and Alex play a little game in order to promote The Cleveland Show, where every time they would cuss, instead of being bleeped, the cusses would be replaced by a soundbite of Cleveland saying his name
Seth concludes by singing a medley of some popular Family Guy songs: Shipoopi, Rocket Man and Surfin' Bird