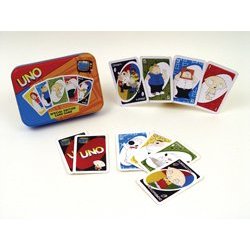 Classic game with collectible travel tin
Features characters from the Family Guy
For 2–10 players
For ages 7 yrs. and up
1.3Hx8.5Wx6.75L
For 2 or More People
Play Time of 1-2 Hours
The laughs continue as the Griffin Family meets America's #1 brand of family games in Uno: Family Guy Edition. Packaged in a collectible tin, this special edition features the dysfunctional family and their friends, including Peter, Lois, Stewie, Brian, Quagmire and more. You can even try for world domination like Stewie with the exclusive "Dominate" card and rule. So gather your friends and family 'round and be the first to reach 500 points to win the game!
Ad blocker interference detected!
Wikia is a free-to-use site that makes money from advertising. We have a modified experience for viewers using ad blockers

Wikia is not accessible if you've made further modifications. Remove the custom ad blocker rule(s) and the page will load as expected.