The episode is officially spelled with a hashtag as "Family Guy Viewer Mail #1". Due to Wikia's formatting, we cannot use the # in the title.
This was supposed to be the first of two episodes consisting of segments suggested by fans, hence the title "Viewer Mail #1." The show was canceled before the second was produced. After the show returned from cancellation, the idea for a second episode had been dropped as reported by Seth MacFarlane. However, at Comic-Con 2011, the crew announced that there would indeed be a "Family Guy Viewer Mail No. 2" for Season 10.
This is the first episode to have no Cutaway gags.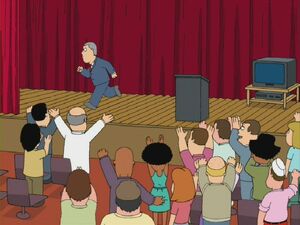 An audience member can be seen grabbing the rear end of a woman in "Supergriffins".
Peter mentions taking a stand-up comedy class at the Learning Annex, an adult education center with branches across North America.
In the haunted house, the kids run into actor Michael Winslow from the Police Academy series of comedy films. Winslow's character was known for making convincing sound effects with his mouth, tricking criminals and fellow officers. Winslow voiced himself in this episode.
The theme music that appears when Peter is "riding on the bus" has the same melody that appeared when Peter was doing research in "Wasted Talent".
In "No Bones About It," professional wrestler Bill Goldberg has a cameo as a man who threatens to punch Peter.
In "Lil' Griffins," Adam Carolla reprises his role of Death.
In the segment "No Bones About It", Peter wished that he had no bones, but he still ends up with some bones, namely his skull and jaw.
Mayor Adam West addressed a citizen as the wrong name. When the citizen corrected him, he addressed him again as a different wrong name. Before this episode came out, Seth MacFarlane had previously worked on writing a Johnny Bravo episode called, "Johnny Bravo meets Adam West!", where Adam West was featured as a character. It was a running gag in the episode for him to do this exact same thing with other people's names.