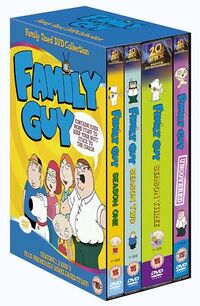 This box set contains the first 3 seasons repackaged in one plastic case. Featuring episodes ranging from "Death Has a Shadow" through "When You Wish Upon a Weinstein" plus a bonus 2-disc set, Family Guy Uncovered, containing special features, including deleted scenes, featurettes, and 14 previously released episodes with added audio commentaries.
Ad blocker interference detected!
Wikia is a free-to-use site that makes money from advertising. We have a modified experience for viewers using ad blockers

Wikia is not accessible if you've made further modifications. Remove the custom ad blocker rule(s) and the page will load as expected.