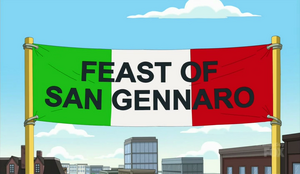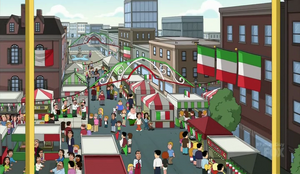 Feast of San Gennaro, also known as the Feast of St Januarius is a holiday celebrated on September 19th on the Catholic calendar to celebrate Saint Januarius, the Patron Saint of Naples.
The Griffins attend a street festival to celebrate the feast in "Bookie of the Year", where Peter is enlisted to try to introduce an elderly Italian lady to a computer tablet, pursues snow cones and is amazed at a blue one, as Chris smashes an arcade game in a fit of rage.
Meanwhile, Brian and Stewie bump into Frank Sinatra, Jr. while in search of Italian food and he convinces them to open a restaurant with him.
Ad blocker interference detected!
Wikia is a free-to-use site that makes money from advertising. We have a modified experience for viewers using ad blockers

Wikia is not accessible if you've made further modifications. Remove the custom ad blocker rule(s) and the page will load as expected.